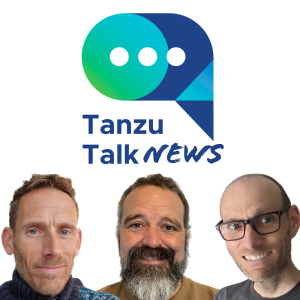 Wednesday Dec 07, 2022
Developer templates and secure software supply chains for kubernetes with the Tanzu Application platform. Also: developer tools at AWS re:Invent and using ChatGPT to eliminate needless work.
In this episode, we discuss the use of accelerators in the Tanzu Application Platform to help developers start programming quickly and efficiently. We also touch on some of the developer-focused announcements made at the recent AWS re:Invent conference. Finally, we have a discussion about ChatGPT experiments and their potential to reduce the amount of tedious work for office workers. Ben expresses some concerns about the technology, but Coté offers a compelling argument for its usefulness.†
Be sure to check out Ben's new talk about Backstage in the Tanzu Application Platform GUI including: Accelerators (code templates), secure software supply chain visualization, API documentation, and more!
If you prefer video, here is the original recording, it has some bonus monster truck material: 
Links discussed in the show:
We talk about Ben's recent video on templates ("accelerators") in the Tanzu Application Platform. Also, we discuss the supply chain demo he does in that same video.
AWS Re:Invent news. Another 2 hr keynote with plenty of new services, many on the data side of things, plus the usual new EC2 instances. We talk about CodeCatalyst and AppComposer. Check out last week's Software Defined Talk overview for more.
ChatGPT - an AI powered bot that's been in my timeline a few times this week. From the same people that provide Dall-E, AI assisted drawing from natural language. SpectroCloud gave it a Kubernetes focused interview and it did pretty well. This feels like Boston Dynamics showcasing their robot inventions, in that it simultaneously amazes the public at large and scares them in equal measure. Unfortunately it doesn't respond to 'Shall we play a game?' (for those that remember War Games and WOPR) - that would have been a cool Easter egg! See Coté's experiments and take on it too.
† This week's description written by ChatGPT with the prompt: "Can you write a podcast episode summary for me? We talked about some developer tools that help start programming (called accelerators) in our own product (the Tanzu Application Platform), then about a few developer things at AWS re:Invent. And then Coté talked a long time about ChatGPT experiments and his theory about how it can help reduce office worker toil. Ben was a bit scared."
Comments
(0)
To leave or reply to comments, please download free Podbean or